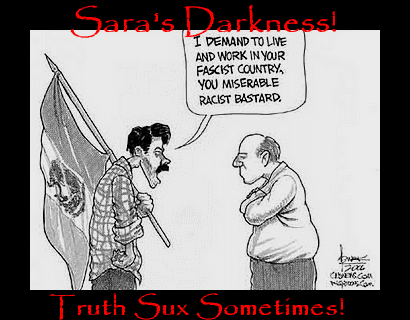 Currently Listening To;
Somewhere In The Night sung by Scott Bakula
What if God was one of us by Joan Osbourne
Full of Grace by Sarah Mclachlan
Wild Horses by the Sundays
Nothing compares to you by Sinead O'Connor
Sing for the moment by Eminem
Theme from Casper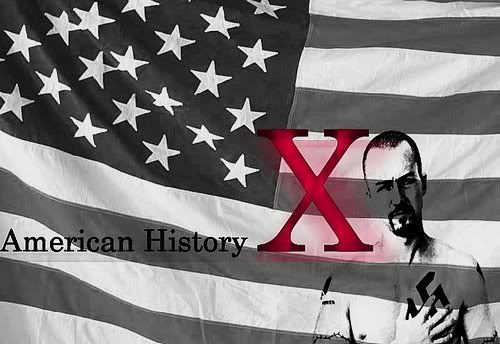 Silence is golden but speaking your mind is priceless. Years ago I took an unplanned trip into the darkness and never came back. I'm there now. Amongst all the little creepy crawly things that scurry about underfoot and SCREAM loudly when you accidently step on them. I've taken to stepping on them on purpose just to hear them cry.
Last night I was woken by the sound of children playing outside my window. I looked to see who it was but no one was there. I can still hear they playing. Outside in the darkness.
Today I asked Lora and Emily if they hear it, too, but neither do. Lora questioned me, fearing for the small amount of sanity I still cling to, but I lied and told her nothing.

Silence is golden after all.
They're out there now. A girl and a boy from the sounds of it. I can't see them but I know they're there. They get silent sometimes but I'm afraid to open the curtain to see if they've left because I know that as soon as I open it to look they'll be standing there, bloody and dark, staring back at me.
A girl I met in Newman Clinic who had the same MANIA I have once told me that ALL CHILDREN laugh at her. She could hear them constantly and had thought many times about picking up a butcher's knife and going out to cut their little throats. For some time I couldn't get that visual out of my head.
Tick, tick, tick. Hey, little chick. Come to Sara and visit with her knife. It might be fun but will probably cost your life.
I wonder whatever happened to her?
Oh, well.
Emily thought I was joking when I told her that all the people around me have locks on their kitchen knife drawers. No, I'm not dangerous, I just have this thing about burying them in the backyard that won't go away with time. Just a little something I can't shake.

S'okay, just taking time out from other things to post here. I pulled my Buffy story out of the drawer and will begin a final draft after I get this other stuff done. I don't know whether to post it as I finish each chapter or the entire thing at once. Anyways, it won't be ready till the end of the year so...
Gotta jet now. Much to do-ness before sunrise.

~Sara<3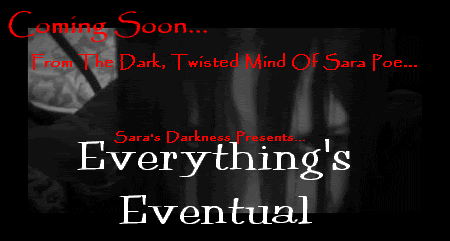 Also...Wanna be in a Sara Mood? Go to this paage and download the small (61kb) zip file called "sarasdarkness.zip." Contained within are some VERY cool midi files you can listen to on your media player. These are what I usually listen to when I blog.
http://www.oddworldz.com/xsaraxpoex/blog/
There are a few other files there, too, that you might want to check out. All are small and one is a Jessie/Katie vid.
And please never forget, there is only one GODDESS in entertainment today...!