This is the nursing home, where all the senior citizens perished. This is the place that President Aaron Broussard, of Jefferson Parish (comparable to a county commissioner), spoke of, on Meet the Press, Sept 4-2005. This is the nursing home, where trapped seniors in wheelchairs and the bedridden waited for Homeland Defense - Waited for Brown of FEMA - waited for local - state - federal officials - waited for the President and died waiting.
No employees were found with the patients. They DIED in Super Power USA. They died alone in the dark, as the waters kept rising - and, by God, I can't, I just can't understand why this whole damn country isn't sobbing. Just like Mr. Broussard did (yes, thankfully some men still cry) when he heard the man who ran the Emergency Center tell his mother (a resident of this nursing home) on Monday, Tuesday, Wednesday, and Thursday - over and over - when she called: "We're coming Momma - we'll be there Momma - we're on our way Momma!"
And then, on Friday, there were no more calls because they'd all drowned.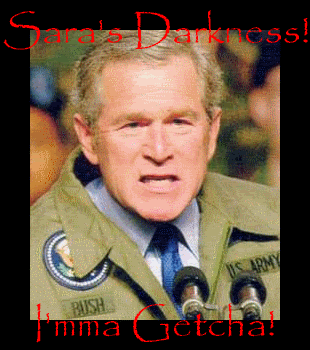 What the hell is wrong with people - listening to this bullshit of back to school - Mandy found her mother - dogs being rescued - and the Press Secretary...that lap dog dufus, brainless cretin McCleland saying: "We're not going to play the blame game."
Chertoff (an attorney - no experience in disaster) of Homeland Defense said on Sept 4 on Meet the Press with Broussard: "Time is of the essence, they'll be plenty of time to chop heads off afterwards."
Really - well, not for these seniors, the most vulnerable in our society, who COULDN'T walk out or drive out of New Orleans to a distant Hilton! Bush was delivering a cake to McCain - golfing - doing the VJ day gig - and looking down, from Air Force One, as these folks drowned.
"We're coming Moma - we're coming." Sometimes I have to stop writing and just cry.
Condi was playing tennis, shopping for $1000 footwear, and attending a Monty Python comedy about the Holy Grail. Cheney went fishing in Jackson Hole - lounged around his trophy home, while Lynn - shopped for a 10 acre estate on Chesapeake Bay. Nobody heard the seniors crying - nor the depraved - criminal - negligence. "We're coming Momma." Nobody came. But the President is going to find out what went right and what went wrong.
The Black Shepherds and Black Caucus are as useless as the rest of them. Rested up from vacation, they're now going to start their race-baiting game, which is all the hell they're good for. Well, it's too late. These seniors, those in Charity hospitals, in group homes, in hospice care are all dead.
Thousands and thousands of people are dead, jobless, and homeless. Meanwhile, our 'leaders' with their obscene salaries, multiple homes and secure pensions are going to see, one again, how they can learn from their mistakes. Right, sure, and we're going to rebuild Iraq? We can't even maintain a levee - or rescue some old folks. What a joke.