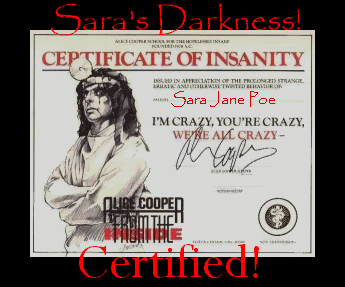 Guess where I've been?
WISCONSIN!!!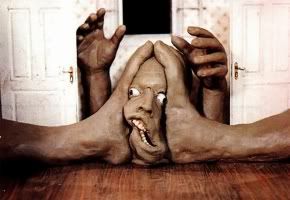 Yeppers, Sara Poe went to Wisconsin on a mission of unity. People that read my blog know that I live in a Gardnerian community that has links with several other samesuch communities throughout America. The oldest such community, located in Maine, has been declining in population over the last decade and people have been very worried about that.
Another community in Wisconsin(I visited it once a few years ago.)has also been in decline but for far longer and under far worse conditions.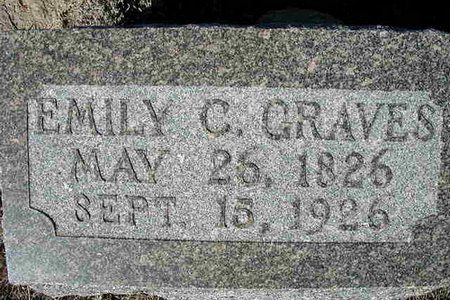 So not too long ago I suggested to my stepdad that maybe the two communities should join together and be as one. I never thought I would be taken seriously but when my stepdad told me that he had presented my ideal to our Elders along with both the aforementioned communities, AND THEY LIKED IT!
He asked me to go along with him to Wisconsin to help convince the people there that this would be a good thing. I, being part of one of the original families to found THIS community, am expected to eventually take a more active role in community decisions and going ons, so I agreed.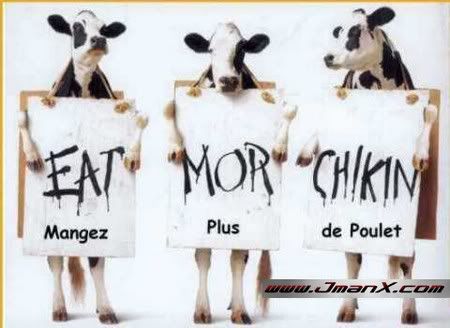 I hated it there because it seems like they haven't let modern technology into their lives (Meaning; NO INTERNET!) but went and observed all that went on regarding my ideal.
To make a long story short, my stepdad is currently in Maine and if the people there agree then they will be accepting 48 new members to their community from the one in Wisconsin.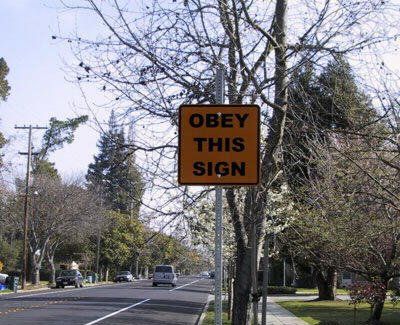 Along with financial support and several people from my community going there to help with the transition, everyone thinks this ideal will work out VERY well and I am proud that I was a part of it.
On a side note, I also suggested that the Maine community become isolationists (We have an Amish community about a mile from here which gave me the ideal.)but that was shot down rather quickly.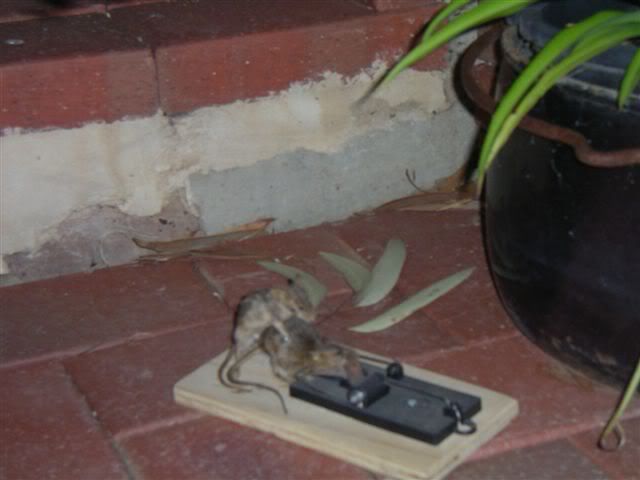 I was in Wisconsin when news that WWE wrestler Eddie Guerrero had died. He was much loved by wrestling fans everywhere and will be missed. Here's to you, Eddie. You will be very, VERY missed.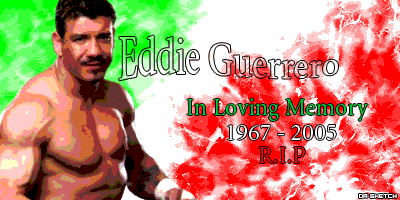 ~Sara<3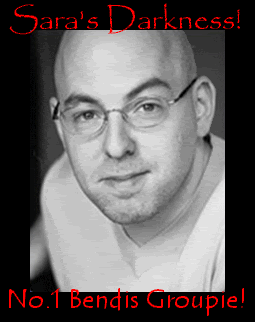 ===================================
20 Amazing Facts About Voting in the USA
by Angry Girl Nightweed.com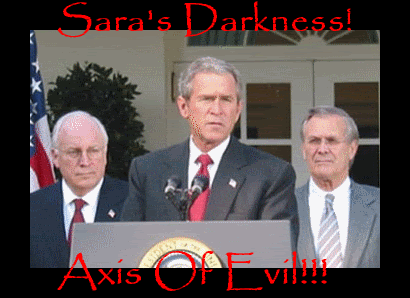 Did you know....
1. 80% of all votes in America are counted by only two companies: Diebold and ES&S.
http://www.onlinejournal.com/evoting/042804Landes/042804landes.html
http://en.wikipedia.org/wiki/Diebold
2. There is no federal agency with regulatory authority or oversight of the U.S. voting machine industry.
http://www.commondreams.org/views02/0916-04.htm
http://www.onlinejournal.com/evoting/042804Landes/042804landes.html
3. The vice-president of Diebold and the president of ES&S are brothers.
http://www.americanfreepress.net/html/private_company.html
http://www.onlinejournal.com/evoting/042804Landes/042804landes.html
4. The chairman and CEO of Diebold is a major Bush campaign organizer and donor who wrote in 2003 that he was "committed to helping Ohio deliver its electoral votes to the president next year."
http://www.cbsnews.com/stories/2004/07/28/sunday/main632436.shtml
http://www.wishtv.com/Global/story.asp?S=1647886
5. Republican Senator Chuck Hagel used to be chairman of ES&S. He became Senator based on votes counted by ES&S machines.
http://www.motherjones.com/commentary/columns/2004/03/03_200.html
http://www.onlinejournal.com/evoting/031004Fitrakis/031004fitrakis.html

6. Republican Senator Chuck Hagel, long-connected with the Bush family, was recently caught lying about his ownership of ES&S by the Senate Ethics Committee.
http://www.blackboxvoting.com/modules.php?name=News&file=article&sid=26
http://www.hillnews.com/news/012903/hagel.aspx
http://www.onlisareinsradar.com/archives/000896.php
7. Senator Chuck Hagel was on a short list of George W. Bush's vice-presidential candidates.
http://www.businessweek.com/2000/00_28/b3689130.htm
http://theindependent.com/stories/052700/new_hagel27.html
8. ES&S is the largest voting machine manufacturer in the U.S. and counts almost 60% of all U.S. votes.
http://www.essvote.com/HTML/about/about.html
http://www.onlinejournal.com/evoting/042804Landes/042804landes.html
9. Diebold's new touch screen voting machines have no paper trail of any votes. In other words, there is no way to verify that the data coming out of the machine is the same as what was legitimately put in by voters.
http://www.commondreams.org/views04/0225-05.htm
http://www.itworld.com/Tech/2987/041020evotestates/pfindex.html
10. Diebold also makes ATMs, checkout scanners, and ticket machines, all of which log each transaction and can generate a paper trail.
http://www.commondreams.org/views04/0225-05.htm
http://www.diebold.com/solutions/default.htm
11. Diebold is based in Ohio.
http://www.diebold.com/aboutus/ataglance/default.htm
12. Diebold employed 5 convicted felons as consultants and developers to help write the central compiler computer code that counted 50% of the votes in 30 states.
http://www.wired.com/news/evote/0,2645,61640,00.html
http://portland.indymedia.org/en/2004/10/301469.shtml
13. Jeff Dean was Senior Vice-President of Global Election Systems when it was bought by Diebold. Even though he had been convicted of 23 counts of felony theft in the first degree, Jeff Dean was retained as a consultant by Diebold and was largely responsible for programming the optical scanning software now used in most of the United States.
http://www.scoop.co.nz/mason/stories/HL0312/S00191.htm
http://www.chuckherrin.com/HackthevoteFAQ.htm#how
http://www.blackboxvoting.org/bbv_chapter-8.pdf
14. Diebold consultant Jeff Dean was convicted of planting back doors in his software and using a "high degree of sophistication" to evade detection over a period of 2 years.
http://www.chuckherrin.com/HackthevoteFAQ.htm#how
http://www.blackboxvoting.org/bbv_chapter-8.pdf
15. None of the international election observers were allowed in the polls in Ohio.
http://www.globalexchange.org/update/press/2638.html
http://www.enquirer.com/editions/2004/10/26/loc_elexoh.html
16. California banned the use of Diebold machines because the security was so bad. Despite Diebold's claims that the audit logs could not be hacked, a chimpanzee was able to do it! (See the movie here: http://blackboxvoting.org/baxter/baxterVPR.mov.)
http://wired.com/news/evote/0,2645,63298,00.html
http://www.msnbc.msn.com/id/4874190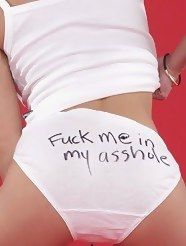 17. 30% of all U.S. votes are carried out on unverifiable touch screen voting machines with no paper trail.
http://www.cbsnews.com/stories/2004/07/28/sunday/main632436.shtml
18. All -- not some -- but all the voting machine errors detected and reported in Florida went in favor of Bush or Republican candidates.
http://www.wired.com/news/evote/0,2645,65757,00.html
http://www.yuricareport.com/ElectionAftermath04/ThreeResearchStudiesBushIsOut.htm
http://www.rise4news.net/extravotes.html
http://www.ilcaonline.org/modules.php?op=modload&name=News&file=article&sid=950
http://www.scoop.co.nz/mason/stories/HL0411/S00227.htm
19. The governor of the state of Florida, Jeb Bush, is the President's brother.
http://www.tallahassee.com/mld/tallahassee/news/local/7628725.htm
http://www.washingtonpost.com/wp-dyn/articles/A10544-2004Oct29.html
20. Serious voting anomalies in Florida -- again always favoring Bush -- have been mathematically demonstrated and experts are recommending further investigation.
http://www.yuricareport.com/ElectionAftermath04/ThreeResearchStudiesBushIsOut.htm
http://www.computerworld.com/governmenttopics/government/policy/story/0,10801,97614,00.html
http://www.americanfreepress.net/html/tens_of_thousands.html
http://www.commondreams.org/headlines04/1106-30.htm
http://www.consortiumnews.com/2004/110904.html
http://uscountvotes.org/
NOTE: Please copy the above list and distribute freely!
LET THE FACTS BE KNOWN! Thank you!
Want a cheap, fair, reliable, and efficient alternative? It exists!
Check out the Swiss Voting System at http://www.swissvs.org
DECEMBER 2004 GALLUP POLLS
1 in 5 Americans believe the elections were fraudulent. That's over 41 Million Americans. You are NOT alone!
WHAT YOU CAN DO ABOUT IT? Get educated. Tell your friends what's going on. Go visit http://VelvetRevolution.US
=====================================
GAO report upholds Ohio vote fraud claims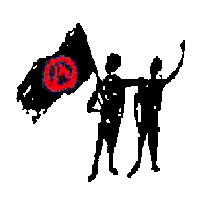 By Joe Baker, Senior Editor Print this page
As if the indictment of Lewis "Scooter" Libby wasn't enough to give the White House some heavy concerns, a report from the Government Accounting Office takes a big bite out of the Bush clique's pretense of legitimacy.
This powerful and probing report takes a hard look at the election of 2004 and supports the contention that the election was stolen. The report has received almost no coverage in the national media.
The GAO is the government's lead investigative agency, and is known for rock-solid integrity and its penetrating and thorough analysis. The agency's agreement with what have been brushed aside as "conspiracy theories" adds even more weight to the conclusion that the Bush regime has no business in the White House whatever.
Almost a year ago, Rep. John Conyers, senior Democrat on the House Judiciary Committee, asked the GAO to investigate the use of electronic voting machines in the Nov. 2, 2004, presidential election. That request was made as a flood of protests from Ohio and elsewhere deluged Washington with claims that shocking irregularities were common in that vote and were linked to the machines.
CNN said the Judiciary Committee got more than 57,000 complaints after Bush's claimed re-election. Many were made under oath in a series of statements and affidavits in public hearings and investigations carried out in Ohio by the Free Press and other groups seeking to maintain transparent elections.
Online Journal.com reported that the GAO report stated that "some of [the] concerns about electronic voting machines have been realized and have caused problems with recent elections, resulting in the loss and miscount of votes."
This is the only democratic nation that permits private partisan companies to count and tabulate the vote in secret, using privately-held software. The public is excluded from the process. Rev. Jesse Jackson and others have declared that "public elections must not be conducted on privately-owned machines." The makers of nearly all electronic voting machines are owned by conservative Republicans.
The chief executive of Diebold, one of the major suppliers of electronic voting machines, Warren "Wally" O'Dell, went on record in the 2004 campaign vowing to deliver Ohio and the presidency to George W. Bush.
In Ohio, Bush won by only 118,775 votes out of more than 5.6 million cast. Honest election advocates contend that O'Dell's statement to hand Ohio's vote to Bush still stands as a clear indictment of an apparently successful effort to steal the White House.
Some of the GAO's findings are: 1. Some electronic voting machines "did not encrypt cast ballots or system audit logs, and it was possible to alter both without being detected." In short, the machines; provided a way to manipulate the outcome of the election. In Ohio, more than 800,000 votes were cast on electronic voting machines, some registered seven times Bush's official margin of victory.
2: the report further stated that: "it was possible to alter the files that define how a ballot looks and works, so that the votes for one candidate could be recorded for a different candidate." Very many sworn statements and affidavits claim that did happen in Ohio in 2004.
Next, the report says, "Vendors installed uncertified versions of voting system software at the local level." The GAO found that falsifying election results without leaving evidence of doing so by using altered memory cards could easily be done.
The GAO additionally found that access to the voting network was very easy to compromise because not all electronic voting systems had supervisory functions protected by password. That meant access to one machine gave access to the whole network. That critical finding showed that rigging the election did not take a "widespread conspiracy" but simply the cooperation of a small number of operators with the power to tap into the networked machines. They could thus alter the vote totals at will. It therefore was no big task for a single programmer to flip vote numbers to give Bush the 118,775 votes.
Another factor in the Ohio election was that access to the voting network was also compromised by repeated use of the same user ID, coupled with easy-to-guess passwords. Even amateur hackers could have gotten into the network and changed the vote.
System locks were easily picked, and keys were easy to copy, so gaining access to the system was a snap.
One digital machine model was shown to have been networked in such a rudimentary manner that if one machine experienced a power failure, the entire network would go down. That is too fragile a system to decide the presidency of the United States.
Problems obviously exist with security protocols and screening methods for vendor personnel.
The GAO study clearly shows that no responsible business would operate with a computer system as flimsy, fragile and easily manipulated as the one used in the 2004 election.
These findings are even more damning when we understand the election in Ohio was run by a secretary of state who also was co-chairman of Bush's Ohio campaign. Far from the conclusion of anti-fraud skeptics, the GAO's findings confirm that the network, which handled 800,000 Ohio votes, was vulnerable enough to permit a handful of purposeful operatives to turn the entire election by means of personal computers using comparatively simple software.
One Ohio campaign operative, Tom Noe, a coin dealer, was indicted Oct. 27 for illegally funneling $45,400 to Bush by writing checks to others, who then wrote checks to Bush's re-election campaign, allegedly dodging the $2,000 limit on contributions by an individual.
"It's one of the most blatant and excessive finance schemes we have encountered," said Noel Hillman, section chief of the U.S. Department of Justice's public integrity section, as quoted in the Kansas City Star.
In the 2000 election, Florida was the key; in the 2004 election, Ohio was the key.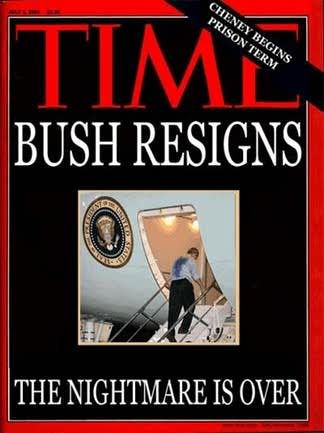 From the Nov. 2-8, 2005, issue
http://www.rockrivertimes.com/index.pl?cmd=viewstory&cat=2&id=11529
George Bush: The Unauthorized Biography
Read it here, http://www.tarpley.net/bushb.htm
We're Number One!!! NOT!!!
http://www.citypages.com/databank/26/1264/article12985.asp
The United States is 49th in the world in literacy (the New York Times, Dec. 12, 2004).
The United States ranked 28th out of 40 countries in mathematical literacy (NYT, Dec. 12, 2004).
Twenty percent of Americans think the sun orbits the earth. Seventeen percent believe the earth revolves around the sun once a day (The Week, Jan. 7, 2005).
"The International Adult Literacy Survey...found that Americans with less than nine years of education 'score worse than virtually all of the other countries'" (Jeremy Rifkin's superbly documented book The European Dream: How Europe's Vision of the Future Is Quietly Eclipsing the American Dream, p.78).
Our workers are so ignorant and lack so many basic skills that American businesses spend $30 billion a year on remedial training (NYT, Dec. 12, 2004). No wonder they relocate elsewhere!
"The European Union leads the U.S. in...the number of science and engineering graduates; public research and development (R&D) expenditures; and new capital raised" (The European Dream, p.70).
"Europe surpassed the United States in the mid-1990s as the largest producer of scientific literature" (The European Dream, p.70).
Nevertheless, Congress cut funds to the National Science Foundation. The agency will issue 1,000 fewer research grants this year (NYT, Dec. 21, 2004).
Foreign applications to U.S. grad schools declined 28 percent last year. Foreign student enrollment on all levels fell for the first time in three decades, but increased greatly in Europe and China. Last year Chinese grad-school graduates in the U.S. dropped 56 percent, Indians 51 percent, South Koreans 28 percent (NYT, Dec. 21, 2004). We're not the place to be anymore.
The World Health Organization "ranked the countries of the world in terms of overall health performance, and the U.S. [was]...37th." In the fairness of health care, we're 54th. "The irony is that the United States spends more per capita for health care than any other nation in the world" (The European Dream, pp.79-80). Pay more, get lots, lots less.
"The U.S. and South Africa are the only two developed countries in the world that do not provide health care for all their citizens" (The European Dream, p.80). Excuse me, but since when is South Africa a "developed" country? Anyway, that's the company we're keeping.
Lack of health insurance coverage causes 18,000 unnecessary American deaths a year. (That's six times the number of people killed on 9/11.) (NYT, Jan. 12, 2005.)
"U.S. childhood poverty now ranks 22nd, or second to last, among the developed nations. Only Mexico scores lower" (The European Dream, p.81). Been to Mexico lately? Does it look "developed" to you? Yet it's the only "developed" country to score lower in childhood poverty.
Twelve million American families--more than 10 percent of all U.S. households--"continue to struggle, and not always successfully, to feed themselves." Families that "had members who actually went hungry at some point last year" numbered 3.9 million (NYT, Nov. 22, 2004).
The United States is 41st in the world in infant mortality. Cuba scores higher (NYT, Jan. 12, 2005).
Women are 70 percent more likely to die in childbirth in America than in Europe (NYT, Jan. 12, 2005).
The leading cause of death of pregnant women in this country is murder (CNN, Dec. 14, 2004).
"Of the 20 most developed countries in the world, the U.S. was dead last in the growth rate of total compensation to its workforce in the 1980s.... In the 1990s, the U.S. average compensation growth rate grew only slightly, at an annual rate of about 0.1 percent" (The European Dream, p.39). Yet Americans work longer hours per year than any other industrialized country, and get less vacation time.
"Sixty-one of the 140 biggest companies on the Global Fortune 500 rankings are European, while only 50 are U.S. companies" (The European Dream, p.66). "In a recent survey of the world's 50 best companies, conducted by Global Finance, all but one were European" (The European Dream, p.69).
"Fourteen of the 20 largest commercial banks in the world today are European.... In the chemical industry, the European company BASF is the world's leader, and three of the top six players are European. In engineering and construction, three of the top five companies are European.... The two others are Japanese. Not a single American engineering and construction company is included among the world's top nine competitors. In food and consumer products, Nestlé and Unilever, two European giants, rank first and second, respectively, in the world.
In the food and drugstore retail trade, two European companies...are first and second, and European companies make up five of the top ten. Only four U.S. companies are on the list" (The European Dream, p.68).
The United States has lost 1.3 million jobs to China in the last decade (CNN, Jan. 12, 2005).
U.S. employers eliminated 1 million jobs in 2004 (The Week, Jan. 14, 2005).
Three million six hundred thousand Americans ran out of unemployment insurance last year; 1.8 million--one in five--unemployed workers are jobless for more than six months (NYT, Jan. 9, 2005).
Japan, China, Taiwan, and South Korea hold 40 percent of our government debt. (That's why we talk nice to them.) "By helping keep mortgage rates from rising, China has come to play an enormous and little-noticed role in sustaining the American housing boom" (NYT, Dec. 4, 2004). Read that twice. We owe our housing boom to China, because they want us to keep buying all that stuff they manufacture.
Sometime in the next 10 years Brazil will probably pass the U.S. as the world's largest agricultural producer. Brazil is now the world's largest exporter of chickens, orange juice, sugar, coffee, and tobacco.
Last year, Brazil passed the U.S. as the world's largest beef producer. (Hear that, you poor deluded cowboys?) As a result, while we bear record trade deficits, Brazil boasts a $30 billion trade surplus (NYT, Dec. 12, 2004).
As of last June, the U.S. imported more food than it exported (NYT, Dec. 12, 2004).
Bush: 62,027,582 votes. Kerry: 59,026,003 votes. Number of eligible voters who didn't show up: 79,279,000 (NYT, Dec. 26, 2004). That's more than a third. Way more. If more than a third of Iraqis don't show for their election, no country in the world will think that election legitimate.
One-third of all U.S. children are born out of wedlock. One-half of all U.S. children will live in a one-parent house (CNN, Dec. 10, 2004).
"Americans are now spending more money on gambling than on movies, videos, DVDs, music, and books combined" (The European Dream, p.28).
"Nearly one out of four Americans [believe] that using violence to get what they want is acceptable" (The European Dream, p.32).
Forty-three percent of Americans think torture is sometimes justified, according to a PEW Poll (Associated Press, Aug. 19, 2004).
"Nearly 900,000 children were abused or neglected in 2002, the last year for which such data are available" (USA Today, Dec. 21, 2004).
"The International Association of Chiefs of Police said that cuts by the [Bush] administration in federal aid to local police agencies have left the nation more vulnerable than ever" (USA Today, Nov. 17, 2004).
No. 1? In most important categories we're not even in the Top 10 anymore. Not even close. The USA is "No. 1" in nothing but weaponry, consumer spending, debt, and delusion.
Reprinted from the Austin Chronicle.