This is gonna be a long post with a boring story, Sara-facts and pics of where I live. So don't even bother reading it.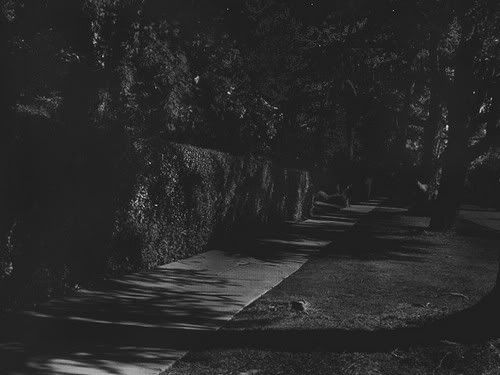 Also, I'll be offline for a while due to a trip we're taking to visit family out of town.
================================
Sara Facts!
Name: Sara Jane Poe
Birthday: October 13th, 1985
Birthplace: Chicago, IL
Current Location: Just outside Quincy, IL
Eye Color: Brown
Hair Color: Chestnut Brown
Height: 5'1
Right Handed or Left Handed: right
Your Heritage: Scottish
The Shoes You Wore Today: none
Your Weakness: scarey movies
Your Fears: deep water
Your Perfect Pizza: pepperoni, ham, mushrooms and double cheese
Goal You Would Like To Achieve This Year: to write a book
Thoughts First Waking Up: Lora
Your Best Physical Feature: my eyes, I guess
Your Bedtime: usually 9am
Your Most Missed Memory: I don't remember
Pepsi or Coke: Coke
McDonalds or Burger King: BK
Single or Group Dates: single
Lipton Ice Tea or Nestea: Lipton
Chocolate or Vanilla: vanilla
Cappuccino or Coffee: BOTH!
Do you Smoke: no
Do you Swear: only when I'm mad
Do you Sing: only when I'm alone
Do you Shower Daily: yes
Have you Been in Love: yes, I am NOW
Do you want to go to College: Maybe
Do you want to get Married: Yes
Do you belive in yourself: yes
Do you get Motion Sickness: no
Do you think you are Attractive: a little
Are you a Health Freak: no
Do you get along with your Parents: yes
Do you like Thunderstorms: VERY MUCH
Do you play an Instrument: no
In the past month have you Drank Alcohol: yes
In the past month have you Smoked: no
In the past month have you been on Drugs: no
In the past month have you gone on a Date: yes
In the past month have you gone to a Mall: yes
In the past month have you eaten a box of Oreos: no
In the past month have you eaten Sushi: Lora's sushi :)
In the past month have you been on Stage: no
In the past month have you been Dumped: no
In the past month have you gone Skinny Dipping: yes
In the past month have you Stolen Anything: no
Ever been Drunk: yes
Ever been called a Tease: often
Ever been Beaten up: yes :(
Ever Shoplifted: once
How do you want to Die: .....
What country would you most like to Visit: Scotland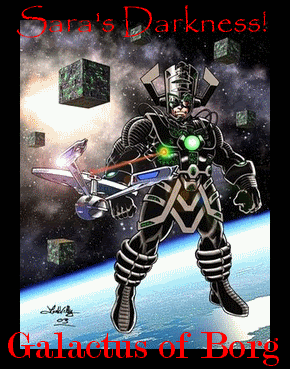 ==================================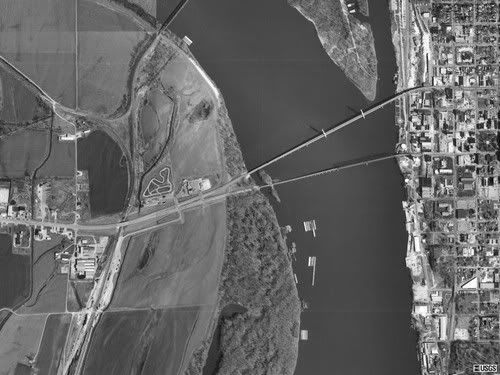 This is Quincy. On the left side of the pic is West Quincy, Missouri. You can see the mini race car track if you look closely.
My little sister Laura showed up at my house yesterday morning pretty upset with me. "WHY DO YOU HAVE TO BE SO CREEPY!" She screamed! It seems that her boyfriend of nearly two years, Rob Hammond, seems to think I'm cool and has been talking about me somewhat. He likes my darkness.
This has angered my sister for some odd reason that I can't, but Lora does, understand. So after telling me how she felt, and me telling her how much I do NOT care, my sister left swearing to never bring Rob over to my house again.
Rob is the little brother of my former high school tormenter extreme, Jeffrey Hammond. Jeffrey was the one that played the secret admirerer prank on my in 9th grade.
Jeffrey's dead now. Killed in a car crash in Iowa a while back. I, of course, am NOT caring too much about this also.

Anyways, later on Lora and me were in town driving down Broadway and guess who we saw. Rob. He was with somme friends just walking. He sees us and begins jumping up and dawn, motioning for us to come back. I tell Lora to go around the block so I can ask him about what my sister was talking about.
Lora is like, "You're not seriously gonna ask him about that are you?"
"Why not?" asks I.
"It would be embarrissing to Laura, that's why NOT." She answers. "You know he has a crush on you."
"DOES NOT!" Yell I!
"DOES!" Yells Lora back! "And I can prove it."
"How?"
"When we pull up tell him to get in the car because we're going to use him as our personal slave today. We'll take him shopping with us and use him as our little doormat. I bet he takes it without complaining." Was he suggestion.
"What are we betting?" I wondered.
Our bet, as per my suggestion, was that if Lora lost she would have to wear my fake mustache for the rest of the day. EVEN IN PUBLIC! If I had lost pig latin would be the only form of communication I could use for the entire day. (Pig Latin is when you put the first letter of every word at the end of it and add an "a." So he sentence. "Do you have hairy balls." would become "oDa ouya aveha airyha allsba."
I would have to use it whenever I talked or, being the message board freak that I am, wrote any form of communication.
So I took off my helmet and we pull up on this guy, ask him if he'd rather hang out with his friends or go shopping with us at the mall and carry everything we buy. He smiles a HUGE farmboy smile, says later to his friends, and is used and abused by me and Lora for the next four hours. (We did buy him lunch at DQ so it wasn't SO horrible.)
The entire time I'm sending him all over every store we go into to fetch things for me and he's just LOVING the crap outta it. He obeys Lora, too, but won't jump thru hoops for her the way he did for me.
By the time it's over and we leave the mall I start talking entirely in pig latin. Rob didn't understand a thing I said and vengeful lesbo Lora refused to explain it to him. (How the heck does ANY 16 year old NOT know pig latin???)
It was funny as hell when we pulled up at his house to drop him off and my little sis was sitting on his porch waiting for him. Lora and me both started laughing when we saw the angry look on her face. I know it pissed her off to no end but we didn't even stop to explain ourselves.

He got out of the car and we took off leaving him to face a 16 year old girl that I tortured almost mercilessly growing up. (Yeah, I did some pretty fucked up things to her, as my friend Agric will tell you.)
So the rest of the day I spoke nothing but pig latin. Even last night at the Bendis Board, Lora sat with me to make sure that every single word I typed was in pig latin. (We had fun with it at the board tho.)
We even stopped by my step-dad's resturant. He's so use to my oddities that when I started talking to him he just responded in PL himself and went about his business. He is the COOLEST guy I know!!!
Anyways, that's the long boring story. I wouldn't even post it but my blog has felt neglected lately and I don't want it to think I'm ignoring it.
I dreamt last night of a deserted high school full of rats and roaches. I was living in it and trying to avoid the wild dogs that were stalking me for food. It ended with all the dogs attacking and biting me and me crawling thru cracks in the walls trying to escape from them but they could fit thru the cracks too so I couldn't escape.
One of my better nightmares, I think.
================================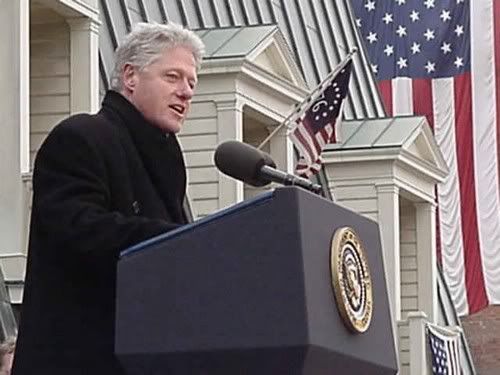 President Bill Clinton in Quincy a couple years back!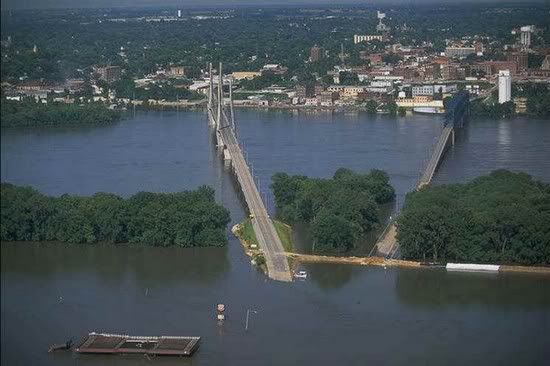 A pic of Quincy during the flood of 93.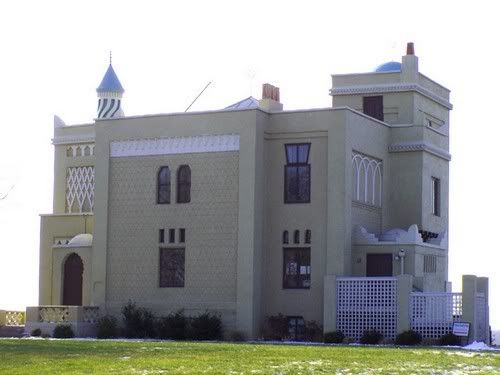 The castle "Villa Catherine" that sits on the bluffs. There's a story about the guy who built it loved his dog so much that he burried it in his yard when he died with a diamond studded collar. People have been arrested trying to find the dog and dig it up.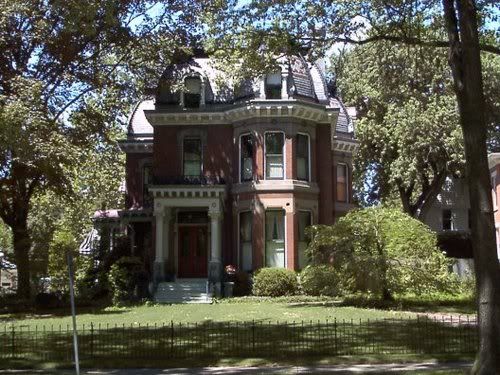 Elder Malcolm's house. I LOVE the way this house looks.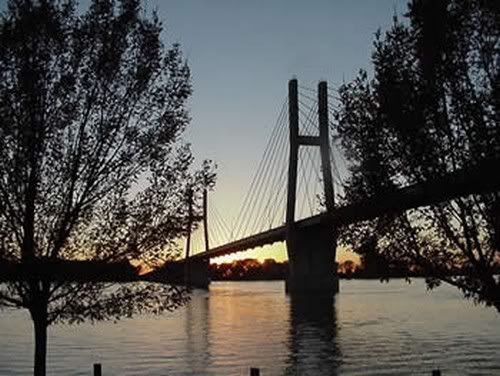 Bayview bridge over the Mississippi River at night.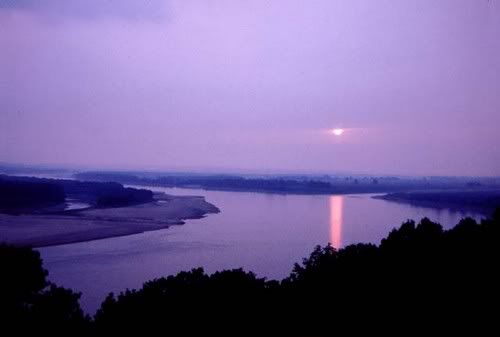 The AMAZING view from the bluffs near my house. THIS is the reason I love sitting on the bluffs at night.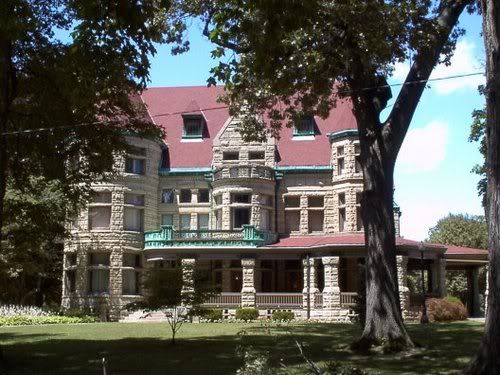 The Quincy Museum.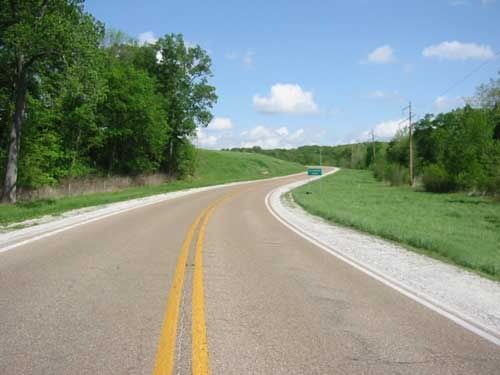 The road to Quincy. This is the walk I take when I leave the community heading to town.
===================================
And that's it. Long and boring because nothing exciting has happened to me lately. :(
~Sara<3
p.s. I dreamt about that "online friend" AGAIN!!!