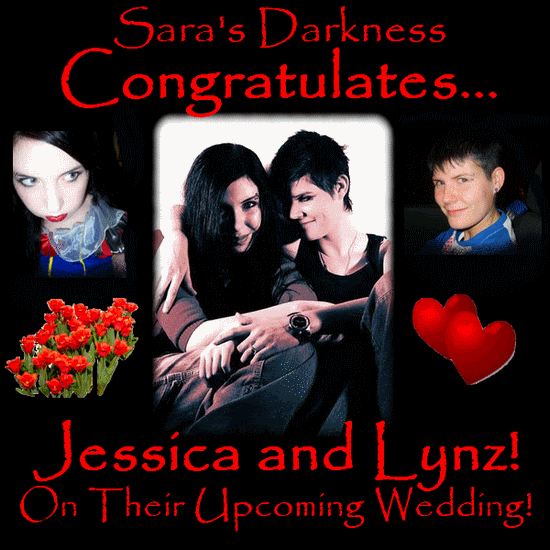 Jessica's words; "after a turbulent three years and a bad break up I really didn't think I'd ever meet anyone else I would want to spend my life with. After three years alone I met Lynz. I had been seeing a few girls through the years and just thought she might be another one night stand. Drunk as she was, she was immediately likable and attractive. after spending so much time with her through the months I realized how in love with her I am, how lonely and dark my life would be without her. she is my everything."
Lynz's Words; "Jessica is my soul mate, she completes a part of me that no one else ever could. Everyone has a soul mate but only the lucky one's like me ever find them. She will now and for always be my first, last and every thought"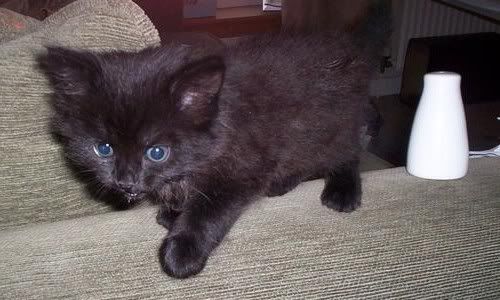 How they met: Jessica and Lynz first properly met at Pride Scotia in the summer of 2006. After a night of heavy drinking and consuming drugs, Lynz invited herself back to Jessica's flat in the old port of Leith. Finding themselves in bed together the girls spent their first night together talking till morning. after exchanging numbers they found themselves in a tortures sexually fraught text relationship till they managed to consummate the relationship. They have been together since and on their one year anniversary both got each other engagement rings unknown to one another and tried to propose at the same time. They are getting a flat together in Leith and will live there together with their lesbian kitten, Elvis jr.
The date hasn't been announced yet but Sara is already talking to Lora and Emily about heading to Scotland when the time comes.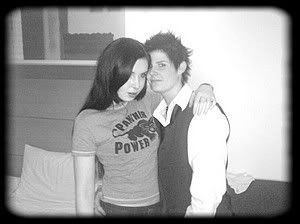 ~Sara<3
P.s. News about my sister coming this weekend!
================================================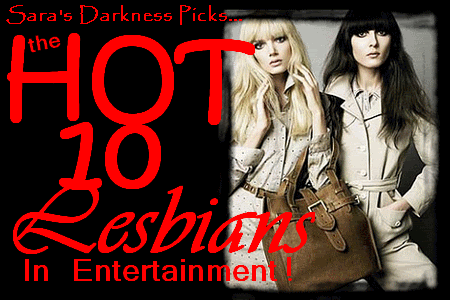 Sara's Darkness' Girls who kiss Girls HOT TEN!
***10.Kristanna Loken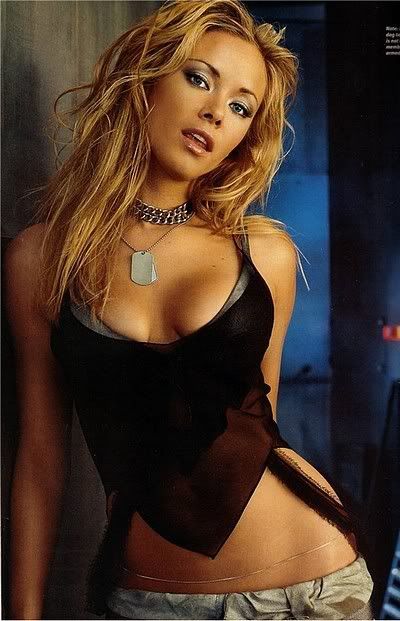 "I have dated and have had sex with men and women and have to say that the relationships I have had with certain women have been much more fulfilling, sexually and emotionally, than of those with certain men," she tells Curve. "I connect with an aura, with energy. And if the person with whom I connect happens to be a female, that's just the way it is. That's what makes my wheels turn."
http://www.afterellen.com/People/2006/1/kristannaloken.html
***9.Michelle Rodriguez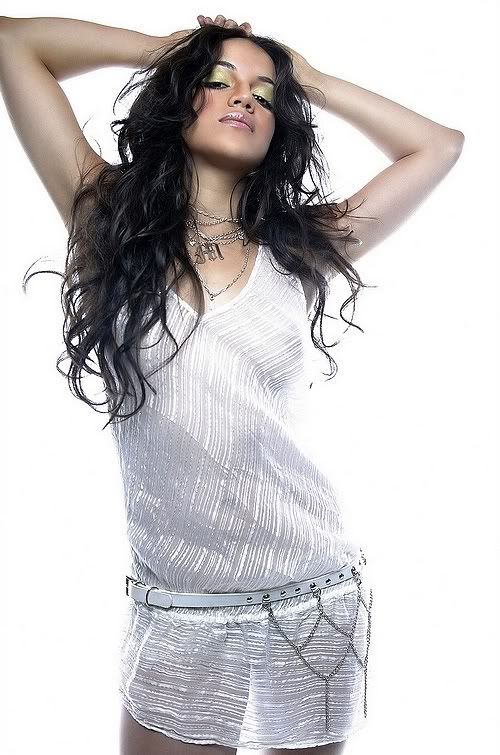 Michelle Rodriguez, who can be seen in the popular TV-series "Lost", and who has earlier starred in Girlfight, BloodRayne, Resident Evil, and Blue Crush, is in a relationship with Terminator 3 actress Kristanna Loken, (Number 10 above.) according to the US gay and lesbian magazine "The Advocate".
http://www.advocate.com/exclusive_detail_ektid39431.asp

***8.Drea de Matteo (Bisexual)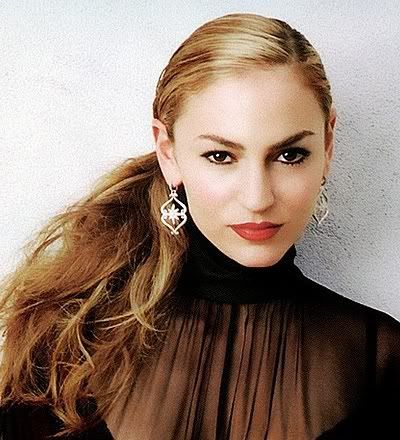 Drea De Matteo's role in The Sopranos was one of her earliest, helping to launch her career. She has also appeared in several films including Swordfish, Deuces Wild, The Perfect You and the 2005 remake of John Carpenter's 1976 action film Assault on Precinct 13. She also portrayed Joey Tribbiani's sister Gina in the Friends spin-off Joey.
***7.Kate Meonnig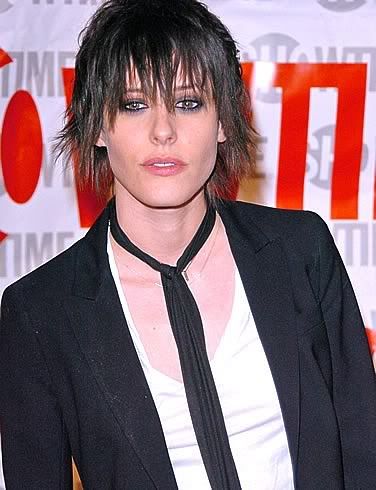 While some have reported that Katherine Moennig, The L Word, is gay, she has never publicly said so and has repeatedly said she does not wish to discuss or disclose her sexual orientation. Sara says, "straight people NEVER refuse to discuss their sexuality."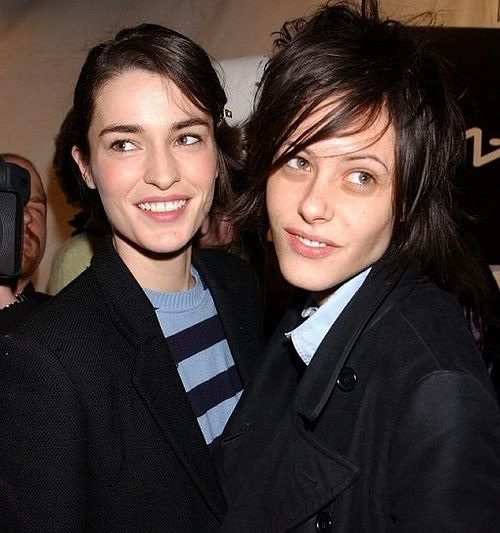 Francesca Gregorini, after being dumped by Ellen, moves on, with L-Word's Katherine Moennig.
http://www.queerday.com/2005/apr/21/francesca_gregorini_moves_on_with_lwords_katherine_moennig.html
***6.Amanda Moore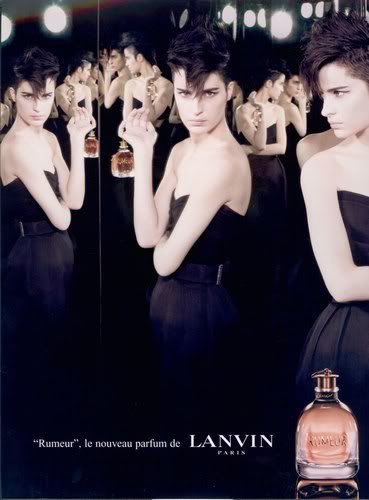 "LESBIAN BEAUTY STRIKES BACK"
Sexy lesbian Vogue covergirl Amanda Moore punched out a man who's been making time with her girlfriend the other night.
http://www.insignifica.org/jozjozjoz/archives/001730.shtml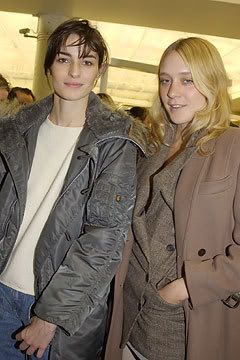 ***5.Tegan Quin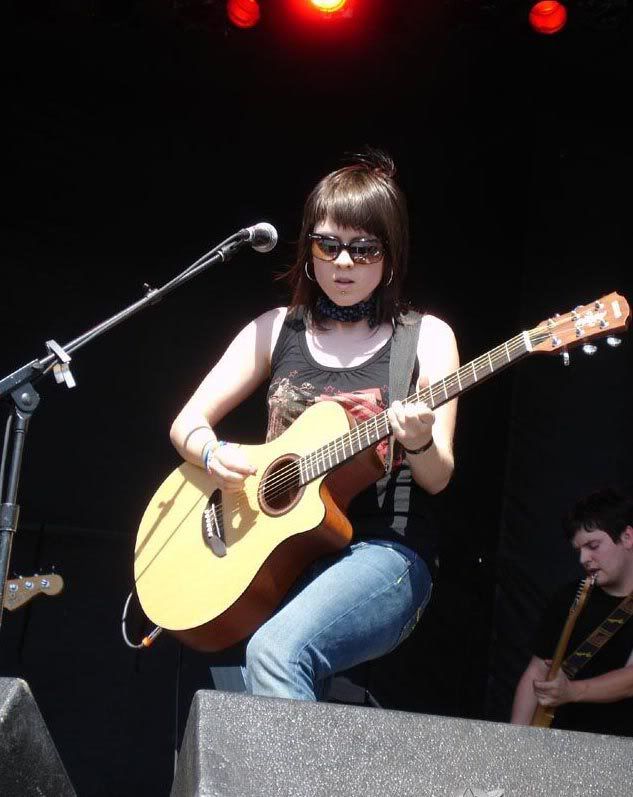 Written by her sister, Sara Quin... "Tegan has lived in Vancouver for five years. She does not own roller blades or one of those water bottles that fits into a holster on your bike. In fact, she owns a bike, but if you tried to ride it on a 'trail' you would die. Once, we tried to double on her bike, but we didn?t even get out of her apartment before we decided her bike was too little for two people, and also, secretly, we both thought it was creepy to be sisters, and double on the bike in public. Instead we put suntan lotion on our faces and walked. That was a horrible day, and I had an allergic reaction to Tegan's cheap lotion, and broke out in hives.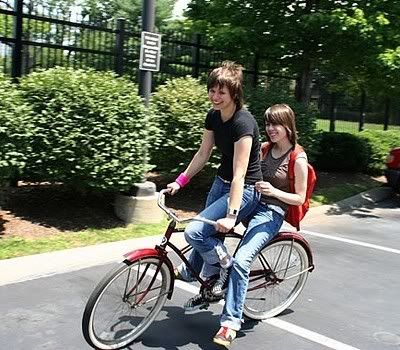 It happened to be the day before our video shoot, for "walking with a ghost," of which I was the star--which leads me to believe that Tegan sabotaged me. She still wasn't the star of the video, and ended up in jail for causing bodily harm to an innocent star of a music video. Who?s laughing now Tegan? When Tegan wasn't in jail, she liked to record at home and send mp4s to Sara via the internet, even though Sara told her she couldn't open mp4s.
Tegan liked to handle all of "Tegan and Sara's" money, and threatened to cheat Sara out of her earnings, but now that she is in jail, Sara is making sure to even everything out. Tegan cried on the first day of school until she was 14, but that is because she is sensitive. Based on my theory, she was supposed to be born as my mother's second child years after I was born, which would explain why she has a stressed hairline and a mild social disorder. Tegan writes infectious songs and wishes she were in a punk rock band from the 90s. Or at least that's how it seems to me, since she refuses to ?get in the now? and stop playing CDs we liked when we were 15. Although I live 3000 miles from Tegan, she and I have a bond that transcends time and space. Not really, but we are contractually obligated to put out one more album, even if Tegan is in jail.
***4.Mia Kirshner (Bisexual)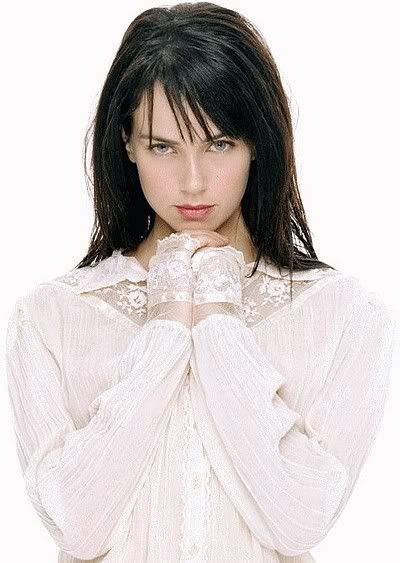 Mia Kirshner has hinted on several occasions to being bisexual. Plus, she's played more bi and gay charactors that just about anyone.
"Mia Kirshner; bisexual love of Marilyn Manson"
http://english.pravda.ru/photo/report/mia_kirshner-1709/
***3.Leisha Hailey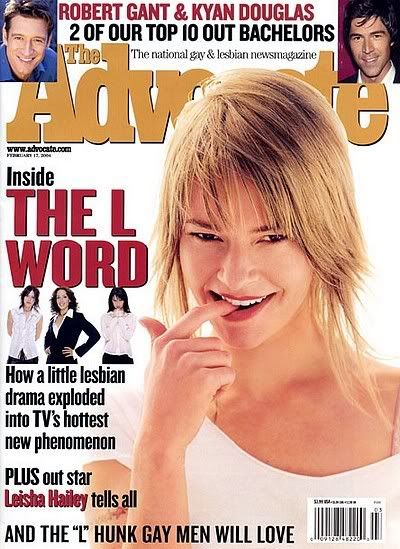 Leisha Hailey's offscreen lesbian tendencies kicked in right around the same time as her thespian ones, when she left Nebraska at 17 to study acting at the American Academy of Dramatic Arts in New York City. "Soon to follow was my whole evolution," she explains. "I had fantastic boyfriends in high school whom I loved very much, but I started tapping into my true sexuality in my later years in high school-basically falling in love with my best friend-but I wasn't sure what it all meant."
Hailey eventually graduated from the academy, but by then she'd already hooked up with fellow acting student Heather Grody to form the alternative band the Murmurs. Her music career took precedence as the pair recorded and performed together for the next 12 years.
***2.Hudson Leick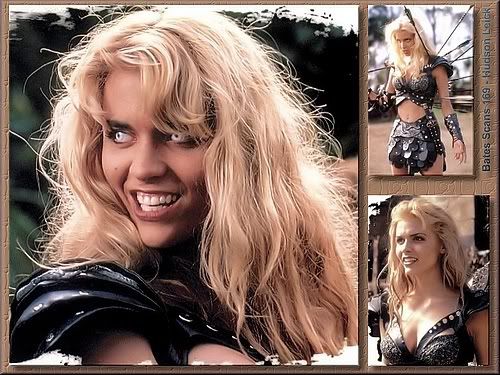 Hudson Leick, who played Callisto in the TV-series "Xena: Warrior Princess" is rumored to be in a relationship with another woman. Hudson herself hasn't really been denying anything.
At a convention in Burbank someone jokingly asked her out on a date, to which she replied that they would have to check with her lover; the question followed, is that lover male or female? to which she replied "Well that really isn't any of your business, now is it?"
***1.Sara Quin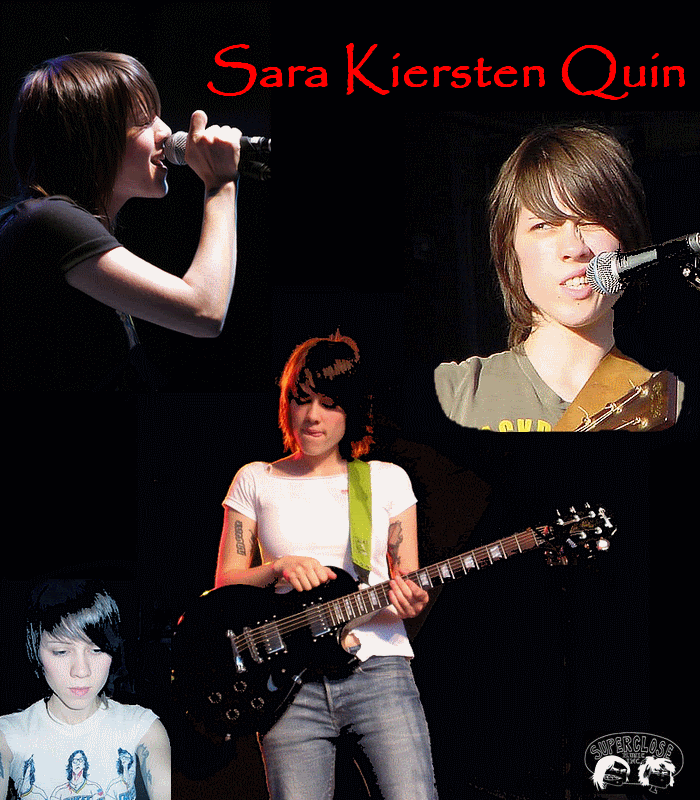 Directly from teganandsara.com; "Sara typically writes the bios for Tegan and Sara. And, because she speaks of a deep passion and admiration for writers, fiction writers specifically, I've never applied for the job (until now). Sara's real life dream, according to her, would be to write fiction and go on book tours. (I think Sara has read John Irving's "A Widow for One Year" one too many times). Sara never liked to tour much (on our past records) but now that she has her own little bunk bed on our bus, she seems quite content to not step inside her city (Montreal) or her apartment (a really big three bedroom that she pays the same amount of money for as I pay for my 600 square foot hamster box in Vancouver) for months on end.
Sara makes friends easier then most people (me) and finds the ?next big thing? every time she thinks a "next big thing" should be found. She wears her pants too short, her shirts extra long, single handedly brought back vintage high tops this year and travels with way too many bags to be even remotely organized. Sara apparently cocoons herself in her blankets when she sleeps, likes wearing layers, cutting her own necklines and socks that go to the knee. She is obsessively clean, and so, as a reminder to those visiting her at home: don?t throw kitchen garbage in the bathroom garbage if you want to be invited back. (Do what I do, just stuff it in the couch cushions). Sara always wanted to be a lawyer but was easily persuaded into a life of rock and roll after high school. On rainy cold days she likes to argue politics, human rights issues and cultivate her infatuation with Naomi Klein and bicycles.
===============================================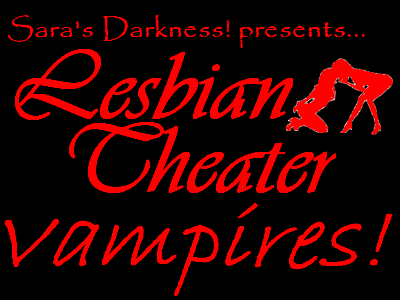 Lila Shue, L.I. (Lesbian Investigator)
Lila takes on a lesbian vampire in this short P.I. spoof. Will she live, or fall in love? Created by Beth Bailey
http://zinkofilms.com/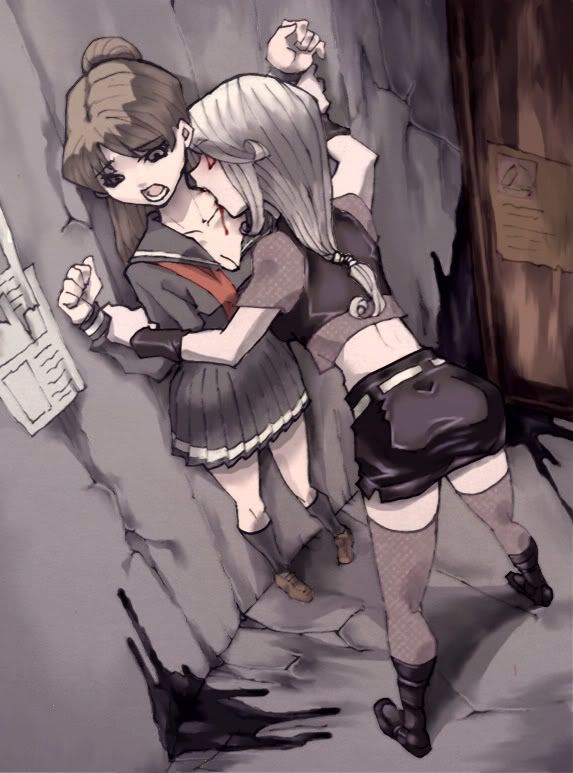 Lesvamps opening
Lezpyres, the movie
http://www.lezpyres.com/
Lesbian vampire sims
Twin lesbians vs a vampire
Okay, I don't know if they're lesbians, or twins, but it's GIRLS FIGHTIN' VAMPS! Very cool scene. If there were scenes like this in American tv I might not be so bored with it.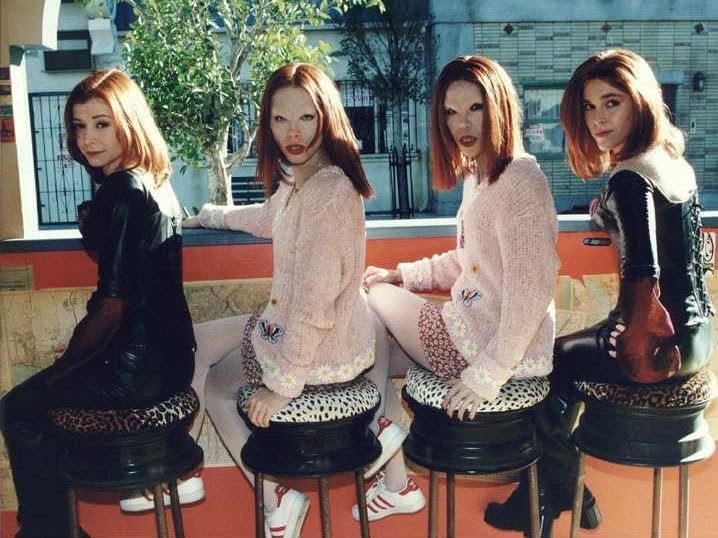 Alyssa Milano, as a vampire, in a lesbian sex scene from the flick "Embrace of the Vampire."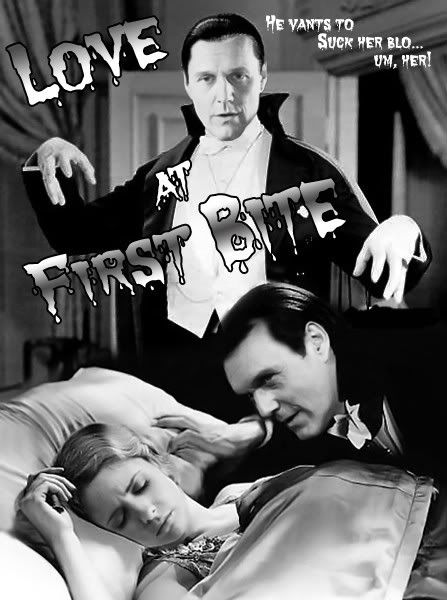 ===============================================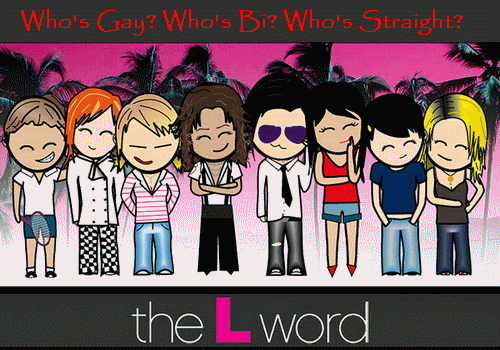 Leisha Hailey, who plays Alice, is openly lesbian. As is Daniela Sea, who joined the main cast in season three, to play the transgender character, Moira-Max.
Laurel Holloman is openly bisexual, married to a man, and is now a mother.
Karina Lombard is openly bisexual, but according to her July 2005 interview with Playboy magazine, filming sex scenes with Mia Kirshner has put a dampener on her girl-loving side.
Jennifer Beals, Erin Daniels, Pam Grier, Rachel Shelley and Sarah Shahi have stated categorically that they are straight. Although Erin has also said that she's a '2' on the Kinsey scale, so there's some hope there.
Mia Kirshner has hinted on several occasions to being bisexual.
While some have reported that Katherine Moennig is gay, she has never publicly said so and has repeatedly said she does not wish to discuss or disclose her sexual orientation.
In an interview, Kelly Lynch, who plays Ivan, reported that almost no one in the cast is straight - regardless of appearances.
There have also been several guest stars on the show who are gay. Guin Turner (Gabby Deveaux), Jane Lynch (Joyce Wischnia), Tammy Lynn Michaels (Lacey), Alexandra Hedison (Dylan Moreland) are all lesbians, and Sandra Bernhard (Charlotte Birch) is bisexual.
And in addition to the actors, many members of the creative team behind TLW, are gay too. Ilene Chaiken (Creator, Executive Producer, Writer, Director), Rose Troche (Co-Executive Producer, Director, Writer), Guin Turner (Writer, Story Editor) and Elizabeth Ziff (Producer, Writer, Original Score Composer) are lesbians, and several other writers and directors who have worked on TLW, such as Angela Robinson and Lisa Cholodenko, are lesbians too.
==================================================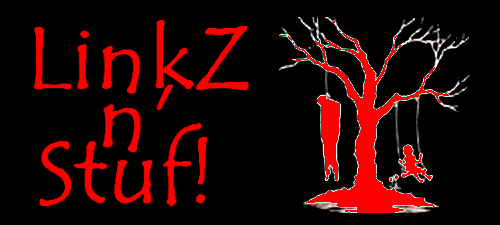 My so called lesbian life
http://blogs.salon.com/0001883/

http://www.365gay.com/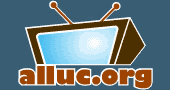 Watch TV Online
http://www11.alluc.org/alluc/

Support Iraqi Oil Sovereignty
http://www.avaaz.org/en/iraq_oil_law/

http://elgoog.rb-hosting.de/index.cgi


Cool Buffy photoshops!
http://www.wickedfox.com/jabw/stuff.htm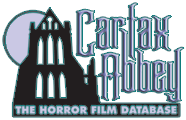 http://www.carfaxabbey.com/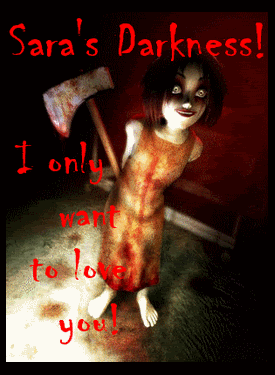 http://www.youtube.com/XSaraXPoeX