Before reading this post please read the one below it. Thank You.
S'ok, now you know where my thoughts are at. I've become almost obsessed with Jessica Dolin. I think she would have liked that. :\ Anyways, my insanity stretches back to for as long as I can remember. My therapist thinks it started when I was eight. It was my first year in Quincy(we had moved from Chicago) and I was standing on the banks of the Mississippi River when I saw my dad die in a boating accident.
It's something I've always had a problem talking about but of late it's been easier. It effected me profoundly, making me absolutely hate going outside. It also sparked a darkness inside of me that I proudly display to this day.
I had my first lesbian experiance when I was 12. My best friend, Kay, and me were curious about each other so one night she was sleeping over and it just happened. This pic was taken the very next day.
Notice how I'm all up on her, but she's sitting normal. Our experiance was a life change for me. I never had been attracted to guys before that, and the experiance pretty much made up my mind about my sexuality. I did have a boyfriend when I was fifteen, but it was a peer presure thing and didn't last.
Sara at 15.
The pic below was taken right before my stay at the "ward for trouble teens" at Newman Clinic.
The pic below is Lora's favorite. It's me on our prom night. She took it as I was talking to my dead grandmother in the mirror.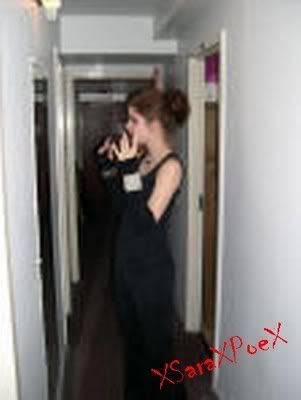 People that think I'm crazy can now look deep into my eyes and see for yourself if there is madness in there.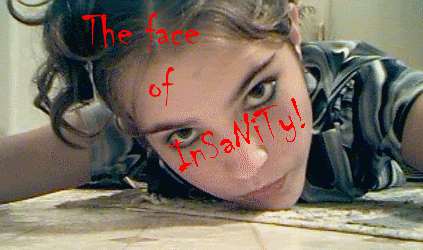 Well? Your opinion?