**"Sometime in the darkest hours of May 14, after putting away the groceries from WinCo and watching some old episodes of the X-Files, Jessica Dolin descended the creaky staircase into the basement of her North Portland bungalow, lit a candle and arranged nine Tarot cards in an upside-down cross, with the card of Justice at the intersection. Then she swallowed a handful of sleeping pills, slit her wrists with a paring knife and tied a plastic bag over her head. Her girlfriend discovered her crumpled, lifeless body by the washing machine the following afternoon. She was 29 years old."**
I read this and felt sad for her.
**"Jessica Dolin suffered from bipolar disorder, better known as manic depression--a disease so devastating that approximately 10 percent of its victims kill themselves, according to the American Psychiatric Association."**
I read this and began to feel very scared for myself. I was diagnosed as a manic depressiant when I was 16. I've always joked about my mania, saying that I would probably be completely insane by the time I'm 25. Now I'm worried that I'll do something extreme like this.
I don't want my Lora to find me dead by my own hand in the basement one day.
I don't know if I can stop it either. Sometimes my mind goes haywire and I have trouble controling what I do. Sometimes things that are normal seem strange to me. And sometimes I just feel like screaming till all the pain goes away. I get so tired of pretending that it doesn't hurt.
I wish I had someone close that understands these things. Most people don't believe that I see the things I see, or they think I act the way I do to get attention. BELIEVE ME, the last thing I want in life is attention. I just want to be myself, but that's becoming harder and harder all the time.
Sometimes things are okay, and I can live a normal life. Sometimes they get really bad, and life is anything but normal. I don't see how Lora puts up with it. She is so strong and loves me so much. My heart aches every time I think about how much I love her. I'm so scared that I'll hurt her one day being selfish.
Sometimes I just feel so lost.
Jessica Dolin lasted till she was 29 years old. I'm hoping to last longer. If you really want to know whats inside my head, read the site Jessica's sister put up. It decribes Jessica's fall into madness well.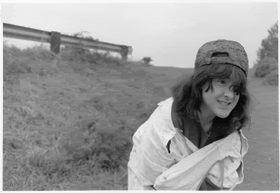 For some reason my blog won't let me put links so just copy and paste the link below...please look at the site.
http://www.catchingadarkness.com/essay1.html