"Rage More!" ~Piper Perabo from the movie Lost And Delirious!
As everybody that reads my blog knows, I've stated several times recently that I wanted to find a new Internet girlfriend. Well, that was a LIE. Now, I'm not use to telling lies so bear with me on this while I explain real quick.
See, my thoughts haven't been really about getting "A" Internet girlfriend, but rather on a certain someone that I think a lot about.
She's reading this now I know and is going to be surprised to hear this, but the only reason I said I wanted one, and the only reason I mentioned it to her several times in my e-mails, was because I wanted HER as my girlfriend.
When I first mentioned it to her she said, "Internet girlfriends are BLAH." Which TOTALLY broke my heart. I thought, "Well, she thinks I'm a friggin' wierdo now so I better just fuggetaboutit."

Then a few days ago I mentioned it again as a joke and gave her a couple *wink, wink*'s. Her reaction...
"Sara, if those winks were for me I would LOVE to be your Internet g/f."
BIG SMILE!
So we talked. Chatted. Discussed things. Shared fantasies, that you are NOT going to hear about, and are slowly working to define our new and exciting relationship.
This is a girl that I've been very fastinated with for quite a few months now. Have you guessed who it is yet?
She loves anima and deviantart.com. Girls and Star Trek: Voyager. Has just started getting into comic books, and looks like a TOTAL DOLL with glasses.
If you haven't guessed then Iiiii'mmmm nooooot gooonna teeeeeeellll yooooouuu!
Here's some of her artwork, too.
Her original character: Kitsune
And her blog. Which is an excellent read, by the way, just don't try to steal her pics because she locks them. (I know, I've tried.) Oh, and you won't see any comments from me there 'cause she BANNED ME!
http://www.darkstarlings.com/blog/blog.php?author=Red_Dove
Last thought; will the visitor from Stockholms, Sweden PLEASE sign up and post, or e-mail me at xsaraxpoex@gmail.com. I would LOVE to hear about Sweden. PLEEEEEEEASE!
~Sara<3
=====Saras Darkness! Site Summary=====
In case anyone is wondering.
Visits
Total ....................... 25,564
Average per Day ................ 100
Average Visit Length .......... 3:12
This Week ...................... 700
Page Views
Total ....................... 43,409
Average per Day ................ 150
Average per Visit .............. 1.5
This Week .................... 1,053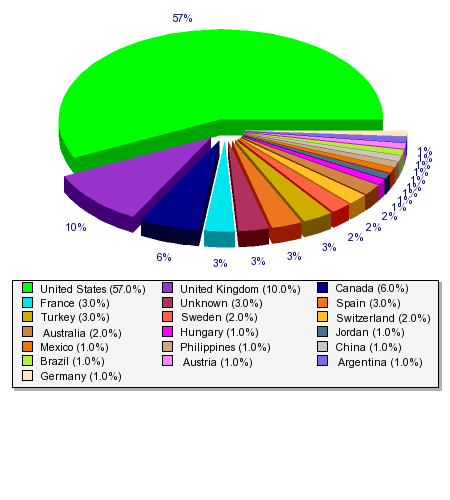 ==============================
Why Heroes?
by Sara poe
There comes a time in life when we all want to be a hero. To gain some magical power that sets us apart and above everyone else. To save lives, fight the bad guy, win the girl, and lead the world into a more perfect tomorrow.
Nowadays, whatwith the world looking more and more like a stinking cesspool, spiraling further and futher down into a burning torturous HELL, it seems like we need a hero now moreso than ever.
Some who was different. Better.
Someone who could help change the world.
That's why the show that comes NBC Monday nights called, "Heroes," is so very important to us fans right now. With characters like...
Peret Petrelli and Hiro Nakamura, who know what's RIGHT and what's WRONG and fight for the former with all they have to give. Nathan Petrelli, who, in THIS GIRL'S opinion, had a great tear-jerking moment at the end of the season finale, showing that he was truly a hero.
Claire Bennet, the cheerleader that needed to be saved. She just wants to be normal. Nikki and Jessica Sanders, super strong mirror images of one another. Matt Parkman, a cop that only wants to get ahead in life.
D.L. Hawkins, he just wants to raise is son and love his wife. Molly Walker and Micah Sanders are ADORABLY cute and excellent young actors playing very serious roles.
The bad guys are perfect bad guys because they truly believe that what they're doing is the right thing to do.
The storyline is rich and powerful and *SPOILER ALERT* in the season finale, when Claire is about to shoot Peter so he doesn't blow up like a nuclear bomb, then Nathan swoops down and he and Peter, with all the other characters watching, take off into the sky so Peter can explode harmlessly, showing that sometimes heroes die to save the world...
*crying smiley*
I choke up every single FRIGGIN' time I watch it.
Next season NBC is going to make it EVEN BETTER by upping the episode count to thirty. They'll be adding episodes called Heroes; Origins, that will introduce a new character each episode and FANS will be able to vote online for their favorite, deciding which will join the regular show.
The show reminds me a lot of how Buffy the vampire Slayer started out. The first season was good, but not great, and each season thereafter it got better and better. I expect the same from Heroes.
I would urge anyone that wants to watch a very good show to check out the links below and get ready for next season.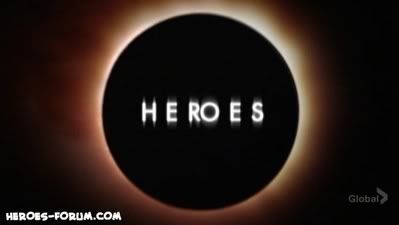 =====Heroes Linkz=====

http://www.nbc.com/Heroes/
http://heroeswiki.com/Main_Page
(Scripts)
http://www.kilohoku.com/heroes.html
http://www.got-heroes.com/
http://www.myspace.com/heroesofficial

Every Episode On Megaupload To Download!
Just go to the page click "continue" and download the file you wish from megaupload!
http://www.megaupload.com/?f=YO2Y4A43
===The Powers of Peter Petrelli===
My favorite character, sexy Peter Petrelli, played by Milo Ventimiglia (Rocky Balboa) has the ability to duplicate any other heroes power he comes in contact with. What's more, he keeps that power. Making him VERY powerful. So far here are the powers Peter has aquired (If I missed any let me know)...
Flight (From Nathan)
Regeneration (Claire)
To stop and move thru time (Hiro)
super-strength (Nikki)
Telepathy (Matt)
Futurist (Isaac)
Generate radiation (Ted)
Invisibility (Claude)
From Sylar he got these powers...
Ability to EAT BRAINS (YAY!) and steal powers.
Telekenetics
Super memory (From Hiro's friend Charlie that he couldn't save.)
Super-hearing
Ability to melt solid objects
Ability to freeze molecules
I don't know if he got close enough to the people to have these powers...
Intangability (D.L.)
Computer control (Micah)
Locate people (Molly)
Remove memories and block others from using their powers (The Haiten)
And these people have powers but we don't know what they are yet but Peter came in contact with them...
Charles Deveaux
Angela Petrelli
Thankx to the people at the Benbo that helped me with this,
http://www.606studios.com/bendisboard/showthread.php?t=114711

============================
The NEW Google Homepage!
Sara LOVES this. Google has always been my home page but now you can choose your own design, link to your gmail and blogger, set links to your favorite websites so you get real time updates from them. You can also add your local weather report that updates in real time.
You can even make tabs so you have access to several homepages at once. I keep a Google screen open at all times now and it saves me the time of checking email and websites that I visit daily because they're all right there at my fingertips.
Plus, the NEW gmail offers pop mail and connects to your other emails. COOL!
===========================
Turner Classic Movies (TCM) is going all out for Pride this June.
The network will present Screened Out: Gay Images in Film all month long. Author Richard Barrios (Screened Out: Playing Gay in Hollywood from Edison to Stonewall ) will host this look at gay and lesbian images in classic Hollywood movies. He'll be joined by TCM host and film historian Robert Osborn. Other commentators inlude Tab Hunter, Michael Musto, Charles Busch, and Alan Cumming.
Films will show at 8 PM Eastern Time on Mondays and Wednesdays in June.
http://www.tcm.com/index.jsp
============================
LINKZzzzz!
The Daystrom Institute!
BEST Star Trek Site!
http://www.ditl.org/
http://comicartcommunity.com/gallery/index.php
All the spoilers for your favorite TV shows.
http://spoilerfix.com/

Comics are for GIRLS!
http://www.girl-wonder.org/